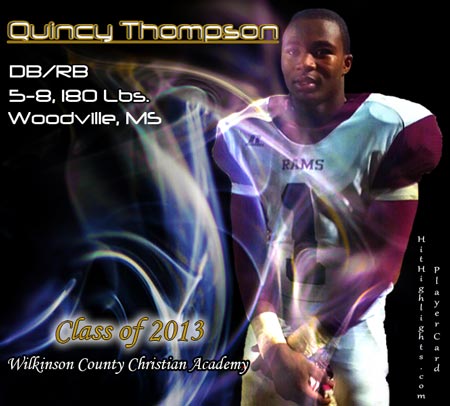 In 2011, Quincy Thompson had a big year on both sides of the ball for Woodville, Mississippi's Wilkinson County Christian Academy (WCCA)—racking up100 tackles over 800 all-purpose yards on offense and a total of 9 touchdowns.
This season the versatile and nimble Class of 2013 prospect looks to help lead his team to a Mississippi Association of Independent Schools (MAIS) championship title. In the process Thompson also wants to land some scholarship offers so that he can continue his education and his love for the game of football.
Though his stature (5-foot-8) may be a concern for some college scouts Thompson more than makes up for his lack of size with his playmaking ability, toughness and heart.
The 2011 Rams were district champs, ending the season at 11W-2L, after a closely fought MAIS tournament quarterfinal defeat. Accordingly, Thompson played a huge role in the WCCA's success last season and he is working towards contributing even more in 2012 so that the Rams can win it all!
The 2012 Rams will have to accomplish the task of winning a MAIS title under the leadership of a new head football coach: David Wright replaces former head coach Ray McDaniel.
Quincy Thompson Football Highlight Video, RB/DB, Class of 2013
Related Link
Quincy Thompson Football Home Page