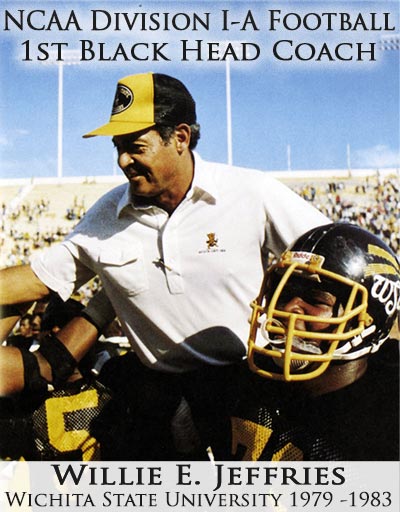 In 1979, Willie E. Jeffries became the first Black man hired as a head coach for an NCAA Division I-A football program when he took the job at Wichita State University (WSU). Jeffries served as the Shockers' head coach for five seasons ('79 through '83), posting his best season in 1982 when the Shockers went 8 -3, finishing 2nd in the Missouri Valley Conference.
Unfortunately, Willie Jeffries' tenure at WSU became mired in controversy when the NCAA cited him and his coaching staff for numerous rules infractions to include recruitment violations. As a result of the NCAA findings, Jeffries was terminated, and the WSU football program was placed on probation for the '83 and '84 seasons.
Three years after Jeffries' firing, Wichita State University President Warren Armstrong announced the termination of the school's football program at the end of the 1986 season.
Before his stint at WSU, Jeffries was a head coach at a historically black college/university (HBCU) South Carolina State University ('73 to '78). After leaving Wichita State, Jeffries was hired at Howard University where he served as their head coach from '84 to '88. Jeffries returned to South Carolina State in 1989, where he stayed until he finished his head coaching career in 2001.
Willie E. Jeffries was elected to the College Football Hall of Fame in 2010. His major accomplishments during his distinguished 29-year-long career as a college head football coach included being the first African-American head football coach at an NCAA Division IA program and winning three Black College Football National Championships at South Carolina State ('76, '77, and '94).
---
The Sports Highlights USA list of Black Head Football Coaches at NCAA Division I-A Schools is dedicated to Willie E Jeffries and to all the Black pioneers that came before him, and to all those that dare to lead the way into the future.
---
Black FBS Head Coaching Changes for 2022-2023
Hires for 2022-2023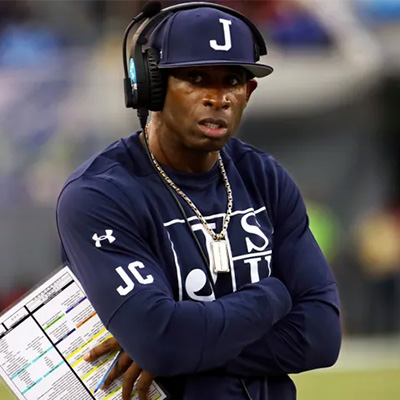 Coaching Moves and Retirements for 2022-2023
Herm Edwards was fired at Arizona State on September 18, 2022.
Karl Dorrell was fired at Colorado on October 2, 2022.
Willie Taggart was fried at Florida Atlantic on November 25, 2022.
David Shaw resigned after 12 seasons at Stanford on November 27, 2022.
Hires for 2021-2022
Virginia hires Clemson Offensive Coordinator

Tony Elliot

to replace Bronco Mendenhall.

Temple grabs Texas running backs coach

Stan Drayton

to replace Roy Carey.

Marcus Freeman replaces Brian Kelly at Notre Dame. For more about Freeman, click the following link "The Most Intriguing NCAA FBS Head Coaching Changes of 2021-2022."
Coaching Moves and Retirements for 2021-2022
Jay Norvell

leaves Nevada after five seasons to take the HC job at Colorado State.

Jimmy Lake

was fired from Washington after only 13 games as head coach.
As of December 18, 2022, there are only 15 Black head coaches at NCAA FBS programs, representing just 11.45% of the head coaches at the 131 member institutions.
Studies from The Institute for Diversity and Ethics in Sports (TIDES), which serves as a comprehensive resource for issues related to gender and race in amateur, collegiate, and professional sports, show that approximately 54.3% of the student-athletes on NCAA FBS teams are African American (as of 2018). The latest interim U.S. Census data from 2015 estimates that Blacks represent 13.3% of America's population. But you're telling me that the representation of Black head coaches in the FBS can't even match — let alone exceed — the U.S. Black population figures?
These figures are even more disturbing considering that the majority of NCAA FBS players are African American—and it has been so for nearly three decades.
For a more in-depth discussion on this topic, check out ESPN's Ivan Maisel's article "The lack of Black college football coaches is still glaring, and so are the excuses behind it,"
NFL Black Head Coaches News
In light of the pending racial discrimination lawsuit bought by former Miami Dolphins Head Coach Brian Flores against the NFL, it's vital that we also keep our eyes and ears tuned to the professional ranks. Especially considering Black players represent approximately 70% of the NFL team rosters, and as of this writing (2/3/2022), the NFL only has one African American head coach, Mike Tomlin (Pittsburg Steelers).
Perhaps the NFL and its owners believe that this year's Super Bowl Halftime Show featuring Mary J. Blige, Dr. Dre, Snoop Dogg, Eminem, and Kendrick Lamar are enough crumbs to lull us back into complacency. Think again. This good ol' boy plantation game has gone on too long, and a reckoning is coming. We wish Brian Flores much success in his lawsuit. And may the fans, entertainers, and celebrities do all that's necessary to make a change.
Updates
February 19, 2022: Brian Flores took the position as Pittsburg Steelers' Senior Defensive Assistant/Linebacker Coach eighteen days after he filed his class action lawsuit against the NFL and three of its teams.
April 18, 2022: Former Arizona Cardinals head coach Steve Wilks and former NFL assistant coach Ray Horton join Brian Flores' class action lawsuit against the NFL. The filings allege that the Arizona Cardinals, Tennesee Titans, and the Houston Texans engaged in racially discriminatory practices. Click here to read a detailed article about the new allegations brought by Wilks and Horton.
Last updated on December 18, 2022
List of Black Head Coaches at NCAA FBS (formerly Division IA) Schools
| # | Coach | School | Conference |
| --- | --- | --- | --- |
| 1. | Dino Babers | Syracuse | ACC |
| 2. | James Franklin | Penn State | Big Ten |
| 3. | Mike Locksley | Maryland | Big Ten |
| 4. | Thomas Hammock | Northern Illinois | MAC |
| 5. | Mel Tucker | Michigan State | Big Ten |
| 6. | Jay Norvell | Colorado State | Mountain West |
| 7. | Charles Huff | Marshall | USA |
| 8. | Stan Drayton | Temple | American |
| 9. | Tony Elliot | Virginia | ACC |
| 10. | Marcus Freeman | Notre Dame | Independent |
| 11. | Maurice Linguist | Buffalo | MAC |
| 12. | Deion Sanders | Colorado | Pac 12 |
| 13. | Lance Taylor | Western Michigan | MAC |
| 14. | Ryan Walters | Purdue | Big Ten |
| 15. | Kenni Burns | Kent State | MAC |
Current running list of Black head coaches at NCAA FBS (formerly Division IA) colleges and universities, presented by HitHighlights.com Sports USA.
Related Links: