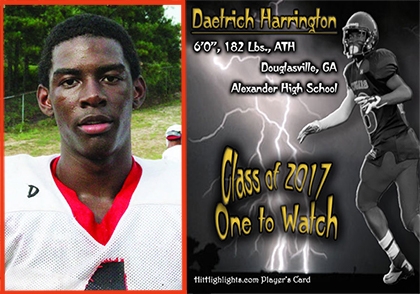 This past week NCAA Division I football programs Georgia State and Miami (OH) made early scholarship offers to Daetrich Harrington, a talented running back prospect out of Douglasville Georgia's Alexander High School.
I had the pleasure of producing Daetrich's sophomore year highlight video nearly a year ago and I marveled, then, at the raw talent he demonstrated on film. Yet despite the obvious abilities I saw from the class of 2017 senior-to-be, I'm always excited to see a young budding talent make the necessary strides towards realizing their full potential.
Daetrich Harrington is taking those giant steps—because only the cream of the crop of the nation's eligible high school football prospects in a class will receive D-1 scholarship offers in their junior years.
I know Daetrich's mother, Myesha Harrington, is certainly proud of her son who in addition to being an outstanding athlete also boasts a 3.75 GPA. Another reason why the explosive, 6-foot, 180 lbs. Harrington will undoubtedly pick up many more offers before next February's 2017 signing day.
Click the following link to check out the raw talent Harrington displayed as a sophomore:  Daetrich Harrington Home Page.