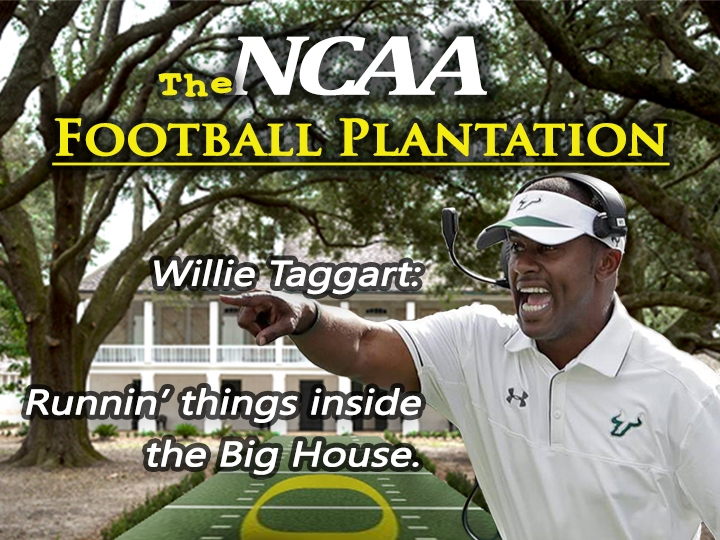 Last updated January 27, 2017: 
Willie Taggart represents a rare find in college football, a Black head coach at a NCAA Football Bowl Subdivision (FBS) (Division 1) program. Going into the 2017 season, there are only 13 Black head coaches out of 128 FBS programs. Even more disconcerting is this dearth of Black FBS head coaches is occurring at a time when African-Americans accounted for 53.4% of all FBS student/athlete participants during the 2015 season, according to the most recent report released by The Institute for Diversity and Ethics in Sports (TIDES), an organization out of University of Central Florida that its website states "serves as a comprehensive resource for issues related to gender and race in amateur, collegiate and professional sports."
It should also be noted that TIDES' percentage of Black participants is an average of all FBS schools. Many of the top ranked FBS programs have a much higher percentage of Blacks on their teams, for instance in 2016 the Southeastern Conference (SEC) had a Black FBS participation rate of 57.9% vs only 41.0% for the Big Ten, according to the NCAA Race and Gender Demographics Database.
So, unfortunately for this viewer, when watching these top NCAA FBS matchups on TV, I get the uneasy feeling that NCAA football is looking more like a pre-Civil War southern plantation with each passing year, as the white head coaches (plantation foreman) yell at their predominately Black players (slaves) to tote that bale—I mean ball.  To add salt to the festering sore, many of these NCAA FBS coaches are also making millions of dollars per year, while they demand that their players—many of whom come from underprivileged homes—not get caught taking as much as penny from anyone or they'll get kicked off this, here, fancy plantation.
Taggart: no token
Though tokenism is an often-used utility of "diversity," Willie Taggart is no token hire—he earned the right and deserved this opportunity to head one of the nation's top FBS programs at the University of Oregon.
2017 NCAA FBS
Black Head Coaches


and Latino, Hawaiian/Pacific Islander and Native American

Coach

School

FBS Black Head Coaches

Dino Babers

Syracuse

James Franklin

Penn State

Paul Haynes III

Kent State

Mike Jinks

Bowing Green

Derek Mason

Vanderbilt

Scottie Montgomery

East Carolina

David Shaw

Stanford

Lovie Smith

Illinois

Charlie Strong

USF

Kevin Sumlin

Texas A&M

Willie Taggart

Oregon

Frank Wilson

USTA

Everett Withers

Texas State

FBS Latino Head Coaches

Rich Rodriguez

U. Arizona

FBS Hawaiian/Pacific Islander Head Coaches

Kalani Sitake

Brigham Young U.

Ken Niumatalolo

Navy

FBS Native American Head Coaches

Jay Norvell

Nevada
In 2010, after a stint as running backs coach at Stanford under Jim Harbaugh, Taggart got his first FBS head coaching gig at his alma mater, Western Kentucky University (WKU), where he was a legendary four-year-starter at QB for the Hilltoppers ('95-'98).  However, Taggart only managed to eke out two wins in his first season but recovered nicely in his 2011 and 2012 campaigns where his teams posted back-to-back 7-5 regular season records, earning the newly admitted FBS program their first official FBS bowl game invite in 2012.
Taggart's success at WKU didn't go unnoticed. A couple of weeks prior to the Hilltoppers 2012 bowl game, the University of South Florida (USF) offered Taggart its head coach spot. In 2016, after three consecutive years of program improvement at USF, capped off by the school's best ever regular season record (10-2), Oregon AD, Rob Mullen's, selected Taggart to be the Duck's new head coach.
Willie Taggart's coaching path to the top should be a very common experience among Blacks aspiring to become head coaches at a FBS program. Even more so since the last major piece of civil rights legislation was passed nearly fifty years ago and given the sheer vast number of Black athletes and coaches that have participated in NCAA football over the past 40 years. But Taggart's success is not a common reality for aspiring Black coaches.
The NCAA for the most part remains lily-white at the top. From day one the NCAA and its forerunners have had their excuses for lack of diversity in coaching and executive positions starting with outright segregation: Blacks simply were not allowed to play on the same teams as whites because Blacks were considered to be an inferior race. Once Blacks were allowed to play, only so many Blacks were allowed on a team at any given time and they were also considered mentally incapable of playing the positions of quarterback or inside linebackers—let alone to have the wherewithal to become a coach.
Oh my, how all of that was proven to be just lies— all lies for the justification and protection of white supremacy. But I digress.
The bottom line is: Blacks are not mentally inferior to whites and never have been. We can succeed at any level and at any endeavor; we can also fail just as miserably as whites at any level or at any endeavor.
Demanding legitimate opportunity
Blacks simply demand the opportunity to succeed or to fail at any level or at any endeavor.
So, when the latest 2015 U.S. Census data shows that 13.3% of the U.S. population is Black, and the NCAA FBS participant percentage data by race, as reported by TIDES, states 53.4% are African-American, yet there are only 13 Black FBS head coaches out of 128 schools—representing only 10.16%—then I know Blacks are still not getting a legitimate opportunity.
I'm not suggesting that 53.4% of the FBS coaches should be Black, but I am saying that in 2017 and beyond-—a 10.16% rate of NCAA FBS Black head coaches is unacceptable!
I'm not waiting or even asking for the NCAA to do the right thing. I simply refuse to support the product with my dollars, until considerably more FBS Black head coaches fill their ranks.
Besides I'm tired of looking at the breeding plantation that NCAA football has become for its principal NFL plantation.
Last Updated: December 10, 2017.
2016/2017 NCAA FBS College Football Head Coach Changes

#

School

Conference

Old Coach
(fired, retired,
or moved on)

Reason for change

New Coach
(former position)

1.

Baylor

Big 12

Jim Grobe

Resigned 

Matt Rhule (Temple HC)

2.

California

Pac 12

Sonny Dykes

Fired

Justin Wilcox (Wisconsin DC)

3.

Cincinnati

American 

 Tommy Tuberville

 Resigned

Luke Fickell  (Ohio State U. DC)

4

.

Connecticut

American

Bob Diaco

Fired

Randy Edsall (Detroit Lions Dir. research-special projects)

5.

Florida Athletic

USA 

Charlie Partridge

Fired

Lane Kiffin (U. Alabama OC)

6.

Florida International

USA 

Ron Turner

Fired

Butch Davis (ESPN analyst)

7.

Fresno State

MWC 

Tim DeRuyter

Fired

Jeff Telford (U. Washington consultant)

8.

Georgia State 

 Sun Belt

 Trent Miles

Fired

Shawn Elliot (South Carolina  OC)

9.

Houston

American

Tom Herman

Left for Texas

Major Applewhite ( U.Texas OC)

10.

Indiana

Big Ten

Kevin Wilson

Fired

Tom Allen (Indiana DC)

11.

LSU

SEC

Les Miles

Fired

Ed Orgeron (LSU Interim HC/DC)

12.

Minnesota

Big Ten

Tracy Claeys

Fired

P.J. Fleck (Western Michigan HC)

13.

Nevada

MWC 

Brian Polian

Resigned

Jay Norvell (Oklahoma U. OC)

14

Oklahoma

Big 12

Bob Stoops

Retired

Lincoln Riley (Oklahoma U. OC)

15.

Oregon

PAC 12

Mark Helfrich

Fired

Willie Taggart (South Florida HC)

16.

Purdue

Big Ten

Darrell Hazell

Fired

Jeff Brohm (Western Kentucky HC)

17.

San Jose State

 MWC

Ron Caragher

Fired

Brent Brennan (Oregon State receiving C.)

18.

South Florida

American 

Willie Taggart

left for Oregon

Charlie Strong (Former U. Texas HC)

19.

Temple

American

Matt Rhule

Left for Baylor

Geoff Collins (U. Florida DC)

20.

Texas

 Big 12

Charlie Strong

Fired

Tom Herman (Houston HC)

21.

Western Kentucky

 USA

Jeff Brohm

Left for Purdue

Mike Sanford (ND OC)

22.

Western Michigan

MAC

P.J. Fleck

Left for Minnesota

Tim Lester (Purdue QB coach)