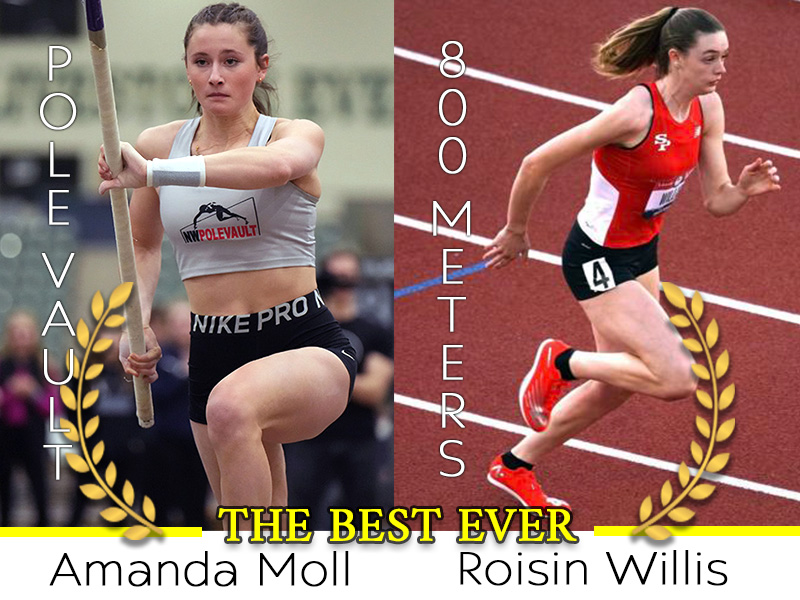 Amanda Moll and Roisin Willis Rise to the Top of the Charts in 2022
The older I get, the more I appreciate the best of the best athletes: The ones who have done something no one else has ever done before them. Seriously, let that thought sink into your brain a little. Think about everything that must come together at the right time and place to produce a result never before achieved. Well, that's what Amanda Moll and Roisin Willis realized in 2022–a one in-a-million. Congratulations to them!
Yet Moll nor Willis was satisfied; they continued to amaze in 2022. Roisin won the World Under-20 800-meter championship in an event record time of 1:59.13 in Cali, Columbia. Amanda became the first American high school girl to clear 15 feet at a non-National Federation of State High School Associations (NFSH) sanctioned competition in Reno, Nevada. She posted an America Under-20 record of 15 feet 1.5 inches. Moll broke her personal best this past January to set a new world Under-20 indoor record, soaring 15 feet 2 inches.
These girls are special-plus. How special? Well, no one can predict the future with certainty. Besides, as I mentioned at the beginning of this article, it takes many things to come together at the right time and place to produce greatness. However, my senses tell me to look for both girls to provide us sports fans with some extraordinary moments for years to come.
Keep tabs on these two
As of this writing (March 7, 2023), Amanda Moll is in her senior year at Capital High School in Olympia, WA. Roisin Willis is now a freshman at Stanford University. Oh, and did I mention that Amanda has a twin sister, Hana Moll, who is just as good? Okay, I just did. Yikes! And they're both committed to the University of Washington. Talk about one in a million; what are the odds of that?
---
The United States high school track and field national records listed below are as maintained by the National Federation of State High School Associations (NFSH). For more information about the NFSH, visit their website at www.nfhs.org.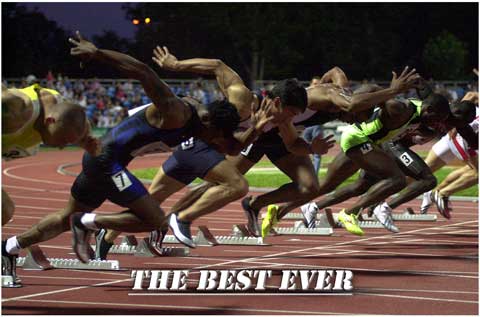 U.S. High School National Track and Field Records [2023]
BOYS
GIRLS
Sprints
Sprints
100: MATTHEW BOLING, Houston Strake Jesuit, TX (2019)—10.13.
100: MARION JONES, Thousand Oaks, CA—11.14 (1992).
200: ROY MARTIN, Dallas Roosevelt, TX—20.13 (1985).
200: ALLYSON FELIX, Los Angeles Baptist, CA—22.52 (2003).
400: ALDRICH BAILEY, Mansfield Timberview, TX—45.19 (2012); MICHAEL NORMAN, Vista Murrieta, Murrieta, CA–45.19 (2015).
Note: In 1982, Darrell Robinson, from Tacoma, Washington's Wilson H.S, ran 44.69 as a high school sprinter in a non-NFHS sanctioned contest.
400: MONIQUE HENDERSON, San Diego Samuel F.B. Morse, CA—50.74 (2000). Shattered previous record by 2 seconds.
Distance Runs
Distance Runs
800: MICHAEL GRANVILLE, Bell Gardens, CA—1:46.45 (1996).
800: ROISIN WILLIS, LaCrosse, WI—2:00.04 (2022).
1600: ALAN WEBB, Reston South Lakes, VA—3:59.51 (2001).
1600: ALEXA EFRAIMSON, Camas, WA—4:33.29 (2014).
3200: GERMAN FERNANDEZ, Riverbank, CA—8:34.23 (2008).
3200: KATELYN TOUHY, Thiells North Rockland, NY—9:47.88 (2018). Broke previous record
Hurdles
Hurdles
110HH: DENNIS BRANTLEY, Houston Worthing, TX—13.10 (1980) manual time.
CHRIS NELLOMS, Dayton Dunbar, OH—13.30 (1990) FAT.
100HH: VASHTI THOMAS, San Jose Mt. Pleasant, CA—13.03 (2007).
300IM: REGGIE WYATT, Riverside La Sierra, CA—35.02 (2009).
300LH: LASHINDA DEMUS, Long Beach Wilson, CA—39.98 (2001).
Relays
Relays
4x100: FORT WORTH O.D. WYATT, TX
(Milton Wesley, Michael Franklin, Montie Clopton, DeMario Wesley)—39.76 (1998).
4x100: DESOTO, TX
(JaEra Griffin, Jayla Hollis, Taylor Armstrong, Rosaline Effiong)—44.24 (2018).
4x200: Conroe the Woodlands, TX
(Jake Lanier, DeAngelo Alexander, Kesean Carter, Ethan Bonner) at Austin, TX,
—1:23.25 (2018).
4x200: LONG BEACH POLY, CA
(Shana Solomon, Jasmine Lee, Shana Woods, Shalonda Solomon)—1:33.87 (2004).
4x400: HAWTHORNE, CA
(Michael Marsh, Michael Graham, Sean Kelly, Henry Thomas) —3:07.40 (1985).
4X400: LONG BEACH POLY, CA
(Shana Solomon, Dashanta Harris, Jasmine Lee, Shalonda Solomon)—3:35.49 (2004).
4x800: WARRINGTON CENTRAL BUCKS SOUTH, PA (Jeffrey Dickson, David Manion, Matthew Poiesz, Thomas Mallon)—7:33.48 (2009).
4x800: GROSSE POINTE SOUTH, MI
(Kelsie Schwartz, Ersula Farrow, Haley Meier, Hannah Meier)—8:48.29 (2012).
Field Events
Field Events
Shot Put: MICHAEL CARTER, Dallas Jefferson, TX—77-00 (1979) Carter later bested this throw, heaving it 81-3 1/2 at the 1979 Golden West Invitational (see Interesting Record Notes above).
Shot Put: ALYSSA WILSON, Toms River Donovan Catholic, NJ—57-1 1/4 (2017). Demolishes previous record by over a foot.
Discus: MASON FINLEY, Buena Vista, CO—236-6 (2009).
Discus: SHELBI  VAUGHAN, Mansfield Legacy, Austin, TX—191-6 (2012).
Javelin: BILLY STANLEY, South Park, PA—246-9 (2012).
Javelin: MADISON WILTROUT, Connellsvile, PA—185-8 (2015).
High Jump: VERNON TURNER, Yukon, OK —7-6 (2017).
High Jump: VASHTI CUNNINGHAM, Bishop Gorman, Las Vegas, NV—6- 4 1/2 (2015).
Pole Vault: ARMAND DUPLANTIS, Lafayette, LA—19-5 1/2 (2018). It shatters the previous record by over a foot.
Pole Vault: AMANDA MOLL, Olympia Capital, Austin, TX—14-9 1/2. 
Long Jump: JAMES STALLWORTH, Tulane Union, CA—26-4 3/4 (1989).
Long Jump: KATHY McMILLAN, Raeford Hoke County, NC—22-1 3/4 (1976).
Triple Jump: CHARLES MAYFIELD, Pasadena Muir, CA—52-10 1/2 (1980).
Triple Jump: JASMINE MOORE, Mansfield Lake Ridge, Austin, TX—44-10 (2019).
Listing of American high school boys and girls track and field national record holders in each event. Presented by Sports Highlights USA.