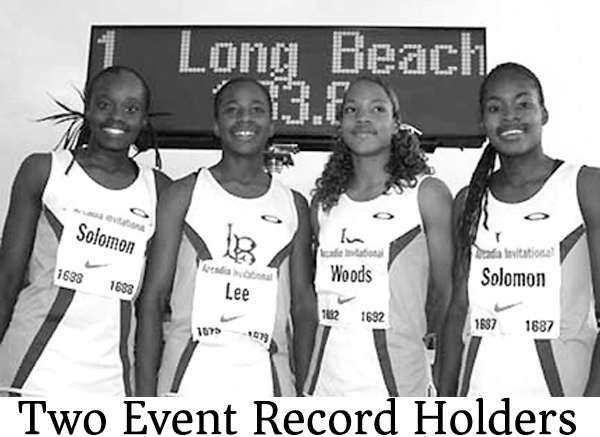 In 2020, no girl or boy or girl high school track and field athlete set a new national record in any event. Was that COVID-19 related? Probably. As we know, COVID-19 forced most high school programs in the country to shut down. Fortunately, in 2021 many high schools have once again opened their doors and are allowing students to participate in competitive sports. And with the 2020 Summer Olympic Games tentatively rescheduled for this summer in Tokyo, Japan, that may be enough to inspire some boys and girls to challenge — if not outright break—a national prep record or two in 2021. At least, that's what I hope to see this season.
The
United States high school track and field national records listed below are as maintained by the National Federation of State High School Associations (NFSH). For More information about the NFSH, visit their website at www.nfhs.org.
Interesting High School Track and Field Records Notes:
The oldest national high school event record still untied or broken is the girls long jump: In 1976, Kathy McMillan (Raeford Hoke County, North Carolina) leaped 22'-1 ¾".
The boys and girls national shot put records were held by a father and daughter tandem: In 1979, Dallas, Texas Jefferson High School's Michael Carter (who went on to become an Olympic Silver Medalist and all-pro defensive tackle for the San Francisco 49ers) heaved the shot an astonishing distance of 77'-00″. But that's not the end to this tale. Later that year, Michael Carter threw 81'-3 1/2" at the Golden West Invitational, a track and field meet held in Sacramento, CA featuring the top high school athletes in the country. The NFSH has not recognized the throw as a record because it did not occur at NFSH sanctioned meet. However, most sports observers do recognize the throw as being a high school record. Consequently, many sports authorities and pundits credit Carter's 81′-3 1/2″ shot put throw as being one of the greatest sports feats in history. Twenty-four years later (2003), his daughter, Michelle Carter (Red Oak, Texas), set the U.S. girls national record with a throw of 54'-10". Michelle's mark was demolished in 2017 by New Jersey's Alyssa Wilson, who heaved a record-shattering toss of 57′ -1 1/4″.
California's Long Beach Poly High School track stars

Shana Solomon

, Jasmine Lee and

Shalonda Solomo

n are the only athletes to hold national records in two events. In 2004, the trio set national records as members of the 4X200 and 4×400 relay teams, clocking 1:33.87 and 3:35.49, respectively.
Last updated March 24, 2021
U.S. High School Track and Field National Records

Boys

Girls
Sprints

Sprints

100:

MATTHEW BOLING

, Houston Strake Jesuit

, TX (2019)—10.13.


100:

MARION JONES,

Thousand Oaks, CA—11.14 (1992).

200: ROY MARTIN, Dallas Roosevelt, TX—20.13 (1985).

200:

ALLYSON FELIX,

Los Angeles Baptist, CA—22.52 (2003).

400: ALDRICH BAILEY, Mansfield Timberview, TX—45.19 (2012); MICHAEL NORMAN, Vista Murrieta, Murrieta, CA–45.19 (2015).
Note: In 1982, Darrell Robinson, from Tacoma, Washington's Wilson H.S, ran 44.69 as a high school sprinter in a non-NFHS sanctioned contest.

400:

MONIQUE HENDERSON,

San Diego Samuel F.B. Morse, CA—50.74 (2000). Shattered previous record by 2 seconds.

Distance Runs
Distance Runs

800:

MICHAEL GRANVILLE,

Bell Gardens, CA—1:46.45 (1996).

800:

AMY WEISSENBACH

Harvard Westlake, CA—2:02.04 (2011).

1600:

ALAN WEBB,

Reston South Lakes, VA—3:59.51 (2001).

1600:

ALEXA EFRAIMSON,

Camas, WA—4:33.29 (2014).

3200:

GERMAN FERNANDEZ,

Riverbank, CA—8:34.23 (2008).

3200:

KATELYN TOUHY

,

Thiells North Rockland, NY—9:47.88 (2018). Broke previous record held since 1996.
Hurdles
Hurdles

110HH:

DENNIS BRANTLEY,

Houston Worthing, TX—13.10 (1980) manual time.
CHRIS NELLOMS, Dayton Dunbar, OH—13.30 (1990) FAT.

100HH:

VASHTI THOMAS,

San Jose Mt. Pleasant, CA—13.03 (2007).

300IM:

REGGIE WYATT,

Riverside La Sierra, CA—35.02 (2009).

300LH:

LASHINDA DEMUS,

Long Beach Wilson, CA—39.98 (2001).
Relays
Relays

4×200:

PORT AUTHOR MEMORIAL, TX
(Xavier Hull, Ireon Brown, Deandre Angelle, Kary Vincent)
—1:23.52 (2017).

4×200

:

LONG BEACH POLY, CA


(Shana Solomon, Jasmine Lee, Shana Woods, Shalonda Solomon)—1:33.87 (2004).

4×100:

FORT WORTH O.D. WYATT, TX


(Milton Wesley, Michael Franklin, Montie Clopton, DeMario Wesley)—39.76 (1998).

4×100

:

DESOTO, TX


(JaEra Griffin, Jayla Hollis, Taylor Armstrong, Rosaline Effiong)—44.24 (2018).

4×400

:

HAWTHORNE, CA


(Michael Marsh, Michael Graham, Sean Kelly, Henry Thomas) —3:07.40 (1985).

4X400:

LONG BEACH POLY, CA


(Shana Solomon, Dashanta Harris, Jasmine Lee, Shalonda Solomon)—3:35.49 (2004).

4×800

:

WARRINGTON CENTRAL BUCKS SOUTH, PA

(Jeffrey Dickson, David Manion, Matthew Poiesz, Thomas Mallon)—7:33.48 (2009).

4×800

:

GROSSE POINTE SOUTH, MI


(Kelsie Schwartz, Ersula Farrow, Haley Meier, Hannah Meier)—8:48.29 (2012).
Field Events
Field Events

Shot Put:

MICHAEL CARTER,

Dallas Jefferson, TX—77-00 (1979) Carter later bested this throw, heaving it

81-3 1/2

at the 1979 Golden West Invitational (see Interesting Record Notes above).

Shot Put:

ALYSSA WILSON,

Toms River Donovan Catholic, NJ

—57-1 3/4 (2017). Demolishes previous record by over a foot.

Discus: MASON FINLEY, Buena Vista, CO—236-6 (2009).

Discus:

SHELBI VAUGHAN,

Mansfield Legacy, Austin, TX

—

191-6 (2012).

Javelin:

BILLY STANLEY,

South Park

, PA—246-9 (2012).

Javelin:

MADISON WILTROUT

,

Connellsvile, PA

—

185-8 (2015).

High Jump:

VERNON TURNER

,

Youkon, OK —7-6 (2017).

High Jump:

VASHTI CUNNINGHAM, Bishop Gorman, Las Vegas, NV—6- 4 1/2 (2015).

Pole Vault: ARMAND DUPLANTIS, Lafayette, LA—19-5 1/2 (2018). Shatters previous record by over a foot.

Pole Vault:

RACHEL BAXTER,

Anaheim Canyon, CA

—14-4 (2017).

Long Jump: JAMES STALLWORTH, Tulare Union, CA—26-4 3/4 (1989).

Long Jump:

KATHY McMILLAN,

Raeford Hoke County, NC—22-1 3/4 1976).

Triple Jump: CHARLES MAYFIELD, Pasadena Muir, CA—52-10 1/2 (1980).

Triple Jump:

JASMINE MOORE,

Mansfield Lake Ridge, TX—44-10 (2019). Eclipses previous record held since 2001 by

nearly

8 inches.
Related Links:
Complete listing of NFHS Boys Track And Field National Records
Complete listing of NFHS Girls Track And Field National Records
Odds of Receiving a College Football Full Scholarship
How to Manage the College Football Recruiting Process
2019-2020 NCAA Football Recruiting Calendars