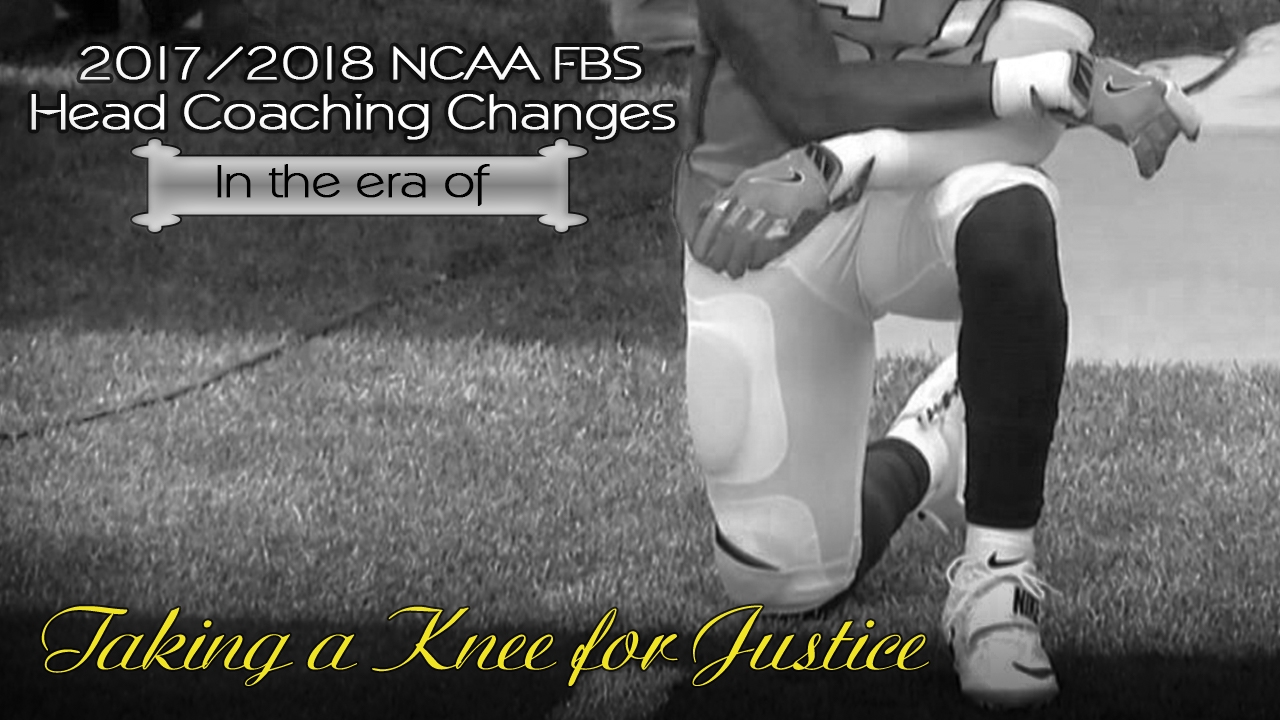 On September 1, 2016, San Francisco 49ers QB Colin Kaepernick (also joined by 49ers safety Eric Reid) took a knee during the playing of the national anthem to protest the oppression of "black people and people of color," most notably exemplified by the prolific number of killings of unarmed Blacks by American law enforcement officials. Since that day many others have followed Kaepernick's courageous example of taking a knee for justice.
The list of Kaepernick followers includes other Black NFL players, WNBA players, NCAA women basketball players, high school and youth league football players, cheerleaders, band and drill teams and numerous other individuals affiliated with various entities. We've even seen several prominent white athletes from other sports drop to a knee during the playing of the national anthem, in recognition and support of the reality of what Kaepernick is trying to draw the world's attention to:
"I am not going to stand up to show pride in a flag for a country that oppresses black people and people of color," Kaepernick said, via NFL.com. "To me, this is bigger than football and it would be selfish on my part to look the other way. There are bodies in the street and people getting paid leave and getting away with murder."
Fortunately, the administrators and football coaches at NCAA FBS colleges don't have to deal with this social phenomenon because, for the most part, teams are in the locker room during the national anthem. The NFL used to be the same way until 2009 when the U.S. Federal Government's Department of Defense stepped in with enough cash money to persuade NFL owners to have their teams standing along the sidelines during the anthem. Why? Look at all the recruiting commercials promoting the U.S. military that play during NFL games. It's all about promoting "patriotism" to encourage young men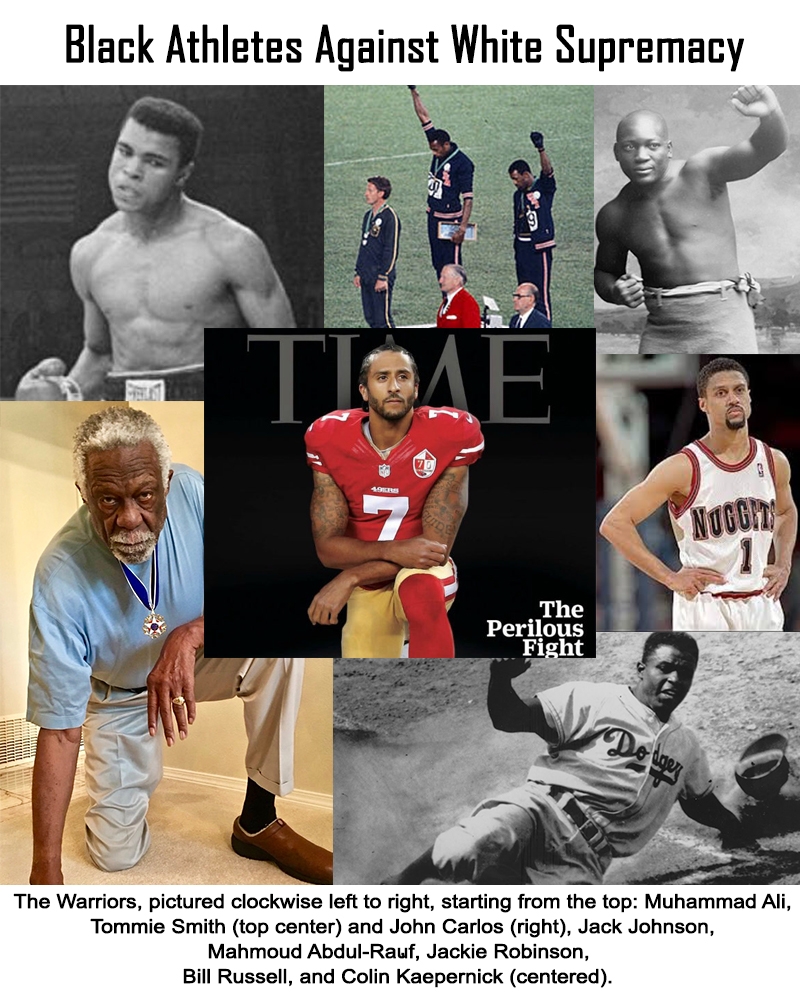 to join up and fight for Uncle Sam.
Learn the History of the National Anthem
They Don't Teach in School
"Star-Spangled Bigotry: The Hidden Racist History of the National Anthem" is a good place to begin learning about the author of America's national anthem, Francis Scott Key, and what this slave owner experienced and saw that inspired him to write the "Star-Spangled Banner," in the late summer of 1814.
Fighting for Uncle Sam is one thing but fighting for human rights is truly a cause to celebrate in my book. I admire those Black sports figures like Jack Johnson, Jackie Robinson, Bill Russell, Muhammad Ali, Tommie Smith and John Carlos, Mahmoud Abdul-Rauf and, now, Colin Kaepernick. Each of these Black warriors challenged the oppression of the global system of white supremacy in their own way suffering through public humiliation and intimidation–to include death threats–and even massive financial loss as a result of daring to contest the white supremacy norms of the day.
The price Kaepernick paid for his nonviolent stance against white supremacy in America is his career. The NFL owners have in all effect blacklisted the 30-year-old Super Bowl XLVII starting QB from being hired by any team, since he became a free agent at the end of the 2016/2017 season.
"If you do not understand White Supremacy (Racism), what it is and how it works, everything else that you understand will only confuse you" — Mr. Neely Fuller Jr. (1971)
Blacks represent over 53% of the total number of student athletes on the football rosters at NCAA FBS programs, according to data from The Institute for Diversity and Ethics in Sports (TIDES). These young Black men are directly subject to the oppression for which Kaepernick took a knee. Therefore, I give heed to the NCAA  FBS college administrators and coaches–what you've seen this past year or so will inevitably come your way too in some form or fashion. Because the times we live in will demand it.
Related Links: 2017/2018 NCAA FBS Black Head Coaching Changes
Last updated: March 4, 2018
 2017-2018 NCAA FBS College Football Head Coach Changes

 #

School

Conference

 Old Coach

Reason

New Coach
(Former pos)


 1.

Arizona State

PAC 12

Todd Graham

Fired

Herm Edwards (

Former NFL HC)

 2.

Arkansas

 SEC

Bret Bielema

 Fired

Chad Morris (SMU HC)

 3.

Florida

SEC

Jim McElwain

Resigned

Dan Mullen (MS ST HC)

 4.

Florida State

ACC

Jimbo Fisher

 Resigned

Willie Taggart (Oregon HC)

 5.

Georgia Southern

Sun Belt

Tyson Summers

F

ired

Chad Lunsford

 6.

Kent State

MAC

Paul Haynes

Fired

Sean Lewis (Syracuse Co-OC)

 7.

Louisiana-Lafayette

S

un Belt

Mark Hudspeth

Fired

 Michael Desormeaux

 8.

Mississippi State

SEC

Dan Mullen

Resigned

Joe Moorhead (Penn State OC)

9.

Nebraska

Big Ten

Mike Riley

Fired

Scott Frost (UCF HC)

10.

Ole Miss

SEC

Hugh Feeze

Resigned

Matt Luke (Assistant C)

11.

Oregon

PAC 12

Willie Taggart

Resigned

Mario Cristobal (Oregon OC)

12.

Oregon State

PAC 12

Gary Andersen

Resigned

Jonathan Smith (Washington OC)

13.

Rice

USA

David Bailiff

Fired

Mike Bloomgren (Stanford OC)

14.

South Alabama

Sun Belt

Joey Jones

Resigned

 Steve Campbell (Central Arkansas HC)

15.

Tennessee

SEC

Butch Jones

Fired

Jeremy Pruitt (Alabama DC)

16.

Texas A&M

SEC

Kevin Sumlin

Fired

Jimbo Fisher (Florida State HC)

17.

UCF

American

Scott Frost

Resigned

Josh Heupel (Missouri OC)

18.

UCLA

PAC 12

Jim Mora

Fired

Chip Kelly (SF 49ers HC)

19

UTEP

USA

Sean Kugler

Resigned

Dana Dimel (Kansas State OC)