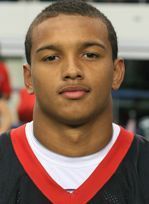 Euless, Texas' Trinity High School tops the  latest USA Today Top 25 High School Football Team ranking.
So just where is Euless, Texas?  Take a look at the Google Map of  Euless Texas : It's located in the state considered to be the high school  football hotbed of the nation, which  annually produces approximately 350 or so division 1 college football scholarships, and it's right smack dab in the middle of the most populous geographical region of  Texas (population 25 mil), right in between Fort Worth and Dallas  just North of Irving, Texas.
Trinity Trojans Top Class of 2011 Recruits
Brandon Carter, 5-11-165, CB, Oklahoma Commit.
Nila Kneubuhl, 6-4, 260,  TE, Baylor Commit.
Jonathan Yenga , 6-1- 195, LB, numerous D-1 offers (not committed).
Visit the Trinity Trojans Football  Website  to view their impressive facilities, schedule and state championships.
Related Link:  USA TODAY Super 25 Boys Varsity Football Standings.