Big 12 Battle of the Unbeatens: Brewing up to be a Kansas State Upset over No. 7 Nebraska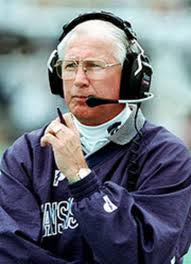 Look for the college football upset of the week to take place this Thursday night inside the Bill Snyder Family Stadium in Manhattan, Kansas, when the surprising 4-0 Kansas State Wildcats take on the undefeated (4-0) No.7 Nebraska Cornhuskers.
The current Vegas betting line for the contest is Nebraska plus ten. The gurus setting those lines are pretty darn good and usually get them right. However, my sense is that in spite of the fact the Huskers will field the more athletic and deeper talented squad; the Big 12 opener for  Nebraska will go in favor of the Wildcats.  Not only will Kansas State cover the point spread–they will outright beat the Huskers on the scoreboard too.
Since last season's crushing bowl victory over Arizona, Bo Pelini's Huskers have deservedly received a lot of media attention and hype. But are they truly a top 10 team—No. 7 in the country no less?  Sure the Huskers are abundantly talented on both sides of the ball, but just look at the teams that they have beaten this year: Western Kentucky, Idaho, Washington and South Dakota State–a Division 1AA program that gave the Huskers all they could handle on their own Memorial Stadium turf. Victories over those teams cannot seriously be considered a barometer of  Division 1A Top 10 prowess.
On the other hand, Kansas State looked impressive in their season opener 32-21 win against the UCLA Bruins. And as you may recall last weekend the Bruins traveled to Texas where they manhandled the then No. 7 Longhorns to a tune of 34-12. So if nothing else, at least the Wildcats have faced and beaten a fairly good ball club. Also K-State slipped past Iowa State 27-0 and the Cyclones put up a ridiculous 52 points in a road win against Texas Tech. Oh, and need I mention–those same Cyclones beat the Huskers in Lincoln last year.
You can bet that Bill Snyder will have his staff and team well prepared to frustrate the Huskers' swift and talented freshman signal caller Taylor Martinez, and their productive running tandem of Roy Helu Jr. and  Rex Burkhead. Though the true key to a Wildcat win will be their ability to move the ball downfield and–score—on the vaunted Black shirts. That mission will rest squarely on the shoulders of last year's Big 12 rushing leader Daniel Thomas.
Thomas has already amassed over 640 yards in four games this season and the Blackshirts look a little more susceptible to the run this year (giving up 139 yards per game). Unfortunately, having LBs Sean Fisher and Will Compton sidelined with injuries doesn't help matters.
All in all, a freshman QB on the road in his first Big 12 game and facing a good Bill Snyder led team, reigning Big 12 rushing champ Daniel Thomas and a susceptible Husker run defense gives me enough good reasons to predict the college football upset of the week.