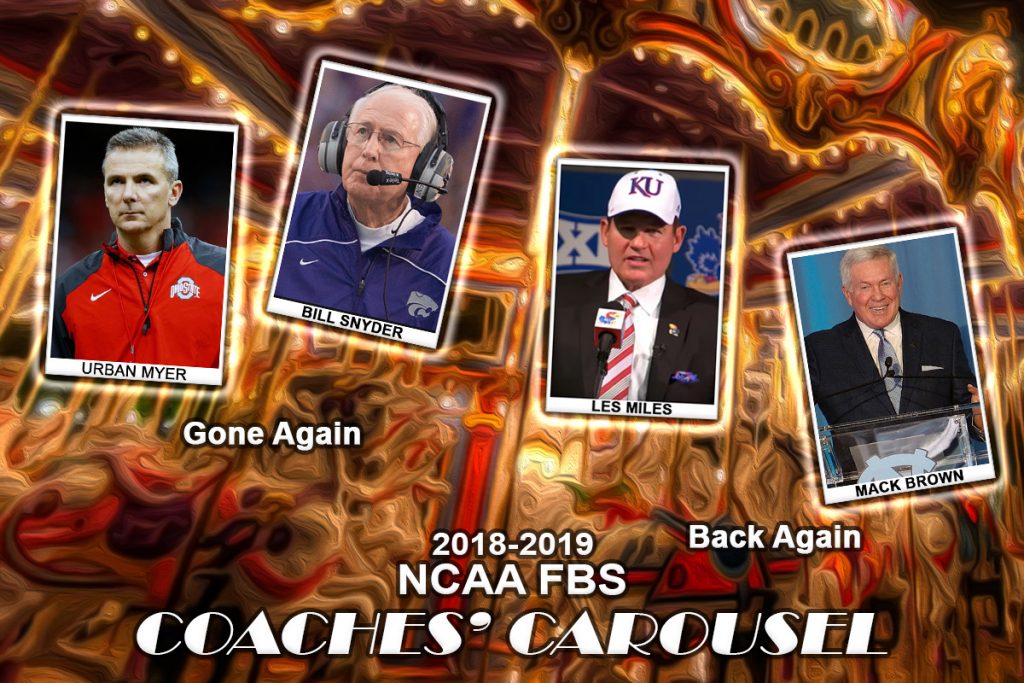 This year's NCAA FBS Coaches' Carousel brings us some of the most significant changes involving big name coaches that we've seen in quite some time, as Ohio State's Urban Myer and Kansas State's Bill Snyder step down, while Les Miles and Mack Brown return to the sidelines. Huh? Did I just say Mack Brown? What the #@&%!
Yes. Mack Brown is back after a five-year hiatus pretending to be a TV analyst and commentator for ESPN. That's good news for ESPN consumers but likely bad news for Tar Heels fans who think the 67-year-old still has something left in his tank. Did these NC fanatics forget about how Brown finished his last four seasons at Texas? Well, let me remind you.
In his 16 seasons as the Longhorns' head bull (1998-2013), Brown won a national championship in 2005 and almost won a second national title before finally succumbing to the Crimson Tide at the 2009 BCS title game (21-37). After that Rose Bowl loss, it was all pretty much downhill for Mack Brown. The next season (2010) he went 5-7, stumbling his way into mediocrity for the next three seasons before finally submitting to the will of Longhorns fans who wanted the old man gone. Because most were convinced Mack had finally run out of gas. And when the University of Texas—supported significantly by tax dollars, mind you—is shelling out $5 million plus per year to pay your salary—you better have plenty of high-octane fuel onboard to keep that burnt orange engine firing hot on all cylinders, baby.
Fortunately, the Tar Heels are only pouring $3 million per season into Brown's old rusted-out tank. Prove me wrong, Mack, but my bet is you and your loyal fans will end up wishing you'd stayed at ESPN, which brings me to another flopped comeback hopeful—Bill Snyder.
Bill Snyder engineered the greatest program turnaround in the history of college football, when he turned the Big 8 Conference's perennial cellar-dweller Kansas State Wildcats into a national title contender (1989-2005). Snyder even led them to a brief no.1 ranking during the 1998 season. And if you've ever been to Manhattan, Kansas you would truly appreciate what Snyder accomplished there even that much more. But why did Snyder have to come back after he retired in 2005 at the age of 66?
Since his return to coaching in 2009—at the age of 70—Snyder never came close to matching the feverish heights of success he had in his first go round, when he kept the Wildcats in the national top 10 rankings for a significant part of his tenure. Is there a lesson here? Hopefully, the 79-year-old Great One hangs it up for good this time.
Off the couch and back into your living rooms comes another sexagenarian, Les Miles, who will not only attempt to resurrect himself but also a program that's been dead for so long you'd forget they played football at Kansas University. As much as I hate to say it, this 65-year-old has a better chance than most to make something good happen at Kansas. The Mad Hatter can recruit and he knows how to build a championship program. And something tells me this old ball coach still has something left in the tank. The problem for the Jayhawks faithful is if Miles delivers—how long will it be before the rumor mill starts spinning that he is looking for jobs elsewhere? That's the thing that helped push him out at LSU (2005-2016). Besides not winning enough SEC tittles and national championships, there were always those rumors about Les looking for greener pastures. No program likes that, Les..
Finally, we say good bye—again—to Ohio State's Urban Myer, who leaves another NCCA FBS program after marring its reputation just a little bit more. Remember Florida and the mess he left behind there? But hey, Urban is a winner who can bring national titles to your school. In this day and age that's all that counts; who cares if that championship trophy comes at the price of tarnishing a university's name a little.
So, unless Myer's health problems prohibit him from ever coaching again, it won't be long before we see him slither his way back up from the pits of Hades. After all, relatively speaking, at the age of 54 Urban is just a child. If some day, in the not too near future, Urban does squirm his way up to your university's doorsteps, you can at least take comfort knowing that he comes with a keen knack for not overstaying his welcome and getting out while the getting is good—he may even leave some goodies in your school's trophy case on his way out.
Related Link: List of Black FBS Head Coaches
Last updated January 1, 2019.
2018-2019 NCAA FBS Head Coaching Changes
#
School
Conference
Old Coach
Reason
New Coach
(Former position)
1.
Akron
MAC
Terry Bowden
Fired
Tom Arth
(U. of Tennessee Chattanooga HC)
2.
Appalachian State
Sun Belt
Scott Satterfield
Moved on
Eliah Drinkwitz
(North Carolina State OC)
3.
Bowling Green
MAC
Mike Jinks
Fired
Scot Loeffler
(Boston College OC)
4.
Central Michigan
MAC
John Bonamego
Fired
Jim McElwain
(Michigan WR coach)
5.
Charlotte
USA
Brad Lanmbert
Fired
Will Healy
(Austin Peay HC)
6.
Colorado
Pac-12
Mike MacIntyre
Fired
Mel Tucker
(Georgia DC)
7.
East Carolina
American
Scottie Montgomery
Fired
Mike Houston
(James Madison HC)
8.
Georgia Tech
ACC
Paul Johnson
Resigned
Geoff Collins
(Florida DC)
9.
Houston
American
Major Apllewhite
Fired
Dana Holgorsen (West Virginia HC)
10.
Kansas
Big 12
David Beaty
Fired
Les Miles
(LSU HC)
11.
Kansas State
Big 12
Bill Snyder
Retired
Chris Klieman (HC North Dakota State)
12.
Liberty
(Independent)
Turner Gil
Retired
Hugh Freeze
13.
Louisville
ACC
Bobby Petrino
Fired
Scott Satterfield
(Appalachian State HC)
14.
Maryland
Big Ten
DJ Durkin
Fired
Mike Locksley
(Alabama OC)
15.
Massachusetts
(Independent)
Mark Whipple
Retired
Walt Bell
(Florida State OC)
16.
Miami
ACC
Mark Richt
Retired
Manny Diaz (Miami DC)
17.
North Carolina
ACC
Larry Fedora
Fired
Mack Brown
(Texas HC)
18.
Ohio State
Big ten
Urban Myer
Retired
Ryan Day
(OSU OC)
19.
Temple
American
Geoff Collins
Moved on
Ed Foley
(Interim)
20.
Texas State
Sun Belt
Everett Withers
Fired
Jake Spavital
(West Virgina OC)
21.
Utah State
Mountain West
Matt Wells
Moved on
Gary Andersen (Utah Asst. HC)
22.
Texas Tech
Big 12
Kliff Kingsbury
Fired
Matt Wells
(Utah HC)
23.
Western Kentucky
USA
Mike Sanford
Fired
Tyson Helton
(Tennessee OC)
24.
West Virginia
Big 12
Dana Holgorsen
Moved on
TBA
College football head coaching changes at NCAA FBS programs for 2018/2019, presented by Sports Highlights USA.