Mountaineers RB Daetrich Harrington continues progress after ACL injury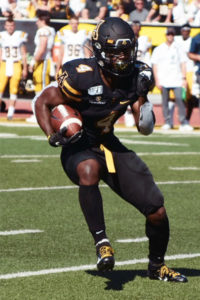 Congrats to Appalachian State RB Daetrich Harrington (6' 190 lbs.) and his Mountaineers on their 34-31 victory over Mack Brown's North Carolina Tar Hills. The win marks the Mountaineers' first victory over a power-five-conference opponent since their upset win against #5 ranked Michigan in 2007 season opener.
The game held even more meaning to me because I made a highlight video for Daetrich when he was only a sophomore at Douglasville High School in Georgia. His mother, Myesha Smith, was rightly proud of her son and she recognized his athletic talent at an early age. Accordingly, she took all the appropriate measures she could to encourage and facilitate Daetrich's athletic aspirations and to help promote him by getting his name out there to as many sources as she could. Myesha even sent me some film she took of Daetrich on her own camera.
On film you could see the promise this kid had. His vision and explosiveness immediately jumped out at you. Consequently, viewing his film left me with no doubt in my mind that this sophomore possessed the skill sets necessary to play D-1 college football. And now he is revealing at the college what I saw from him on film as a young high school sophomore.
During the 2017 season, Harrington played in nine games as a true freshman at Appalachian State, including the regular season finale against Louisiana where he led the team in rushing with 118 yards. Harrington picked up another 72 yards on nine carries in their Dollar General Bowl win over Toledo. Unfortunately, Daetrich tore his ACL during the 2018 spring practice. The injury forced him to miss the entire 2018 season and take a redshirt in the process.
It's truly a pleasure to see the Daetrich back in action this season as a redshirt sophomore contributing to the Mountaineer's success. I was also comforted hearing one of the television game announcers state that first-year Mountaineers Head Coach Eliah Drinkwitz told him that Daetrich was one of his "biggest surprises" this year, in regards to him being able to come back so quickly from injury and contributing to the team.
Harrington's current role on the team is one among a tandem of backs to include Marcus Williams Jr. (5'10" 205 lbs.} who relieves and provides a change of pace for star RB Darrynton Evans (5'11", 200 lbs.). Evans rushed for 3 TDs and had 78 yards on 19 carries against North Carolina, while Harrington accounted for 15 yards on 6 tries and Williams added another 11 yards on 4 totes.
The Mountaineers became full participating members of the FBS in 2015, after a two-year transition moving up from the FCS where they set numerous standards of excellence from winning conference championships to national titles, along with scaring the hell out of their supposedly superior FBS opponents.
Look for the Appalachian State Mountaineers to continue to surprise and make headline as full-fledged members of the FBS.
This is a very good football program and the 2019 edition may field one its best teams ever.
Related Links
Click this link to check out Daetrich Harrington's high school sophomore year highlights