A look Inside Boise State Football and Why They May Go Undefeated Two Years in a Row and Never play in a BCS Championship Game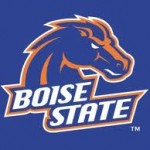 The Boise State Broncos have won 21 straight games and are rated No. 3 in the latest BCS poll:  how does this relatively small and little known college football program–playing in a conference (Western Athletic Conference) that most football fans living east of the Rockies would be hard pressed to name one team that plays in it–outperform the most established and well known football lineups in the nation?  Let's see: 
The State of Idaho is quickly recognized by most as being the land of the potato, but in the world of sports it's rapidly becoming recognized as the kingdom of the Boise State Broncos. Their campus resides in the state's capital city of Boise, a beautiful picturesque metropolis nestled in the foothills of the Rocky Mountains that has a look and feel akin to the Andy Griffith Show's mythical town of Mayberry on steroids.  Fueled by its ever expanding big money high tech industry, the Boise metropolitan area has seen one of the fastest populations growths in the US (estimated as high as 600,000 in the latest 2010 Census)  making it the third  largest US population base in the Pacific Northwest region.  However, among the most significant factors about Boise is its geographical location: sitting in the southwest corner of the State of Idaho, 40 miles east of the Oregon border and 110 miles north of the Nevada state line, thus placing it in within ideal striking distance to the State of California where you will find one of nation's most fertile high school football recruiting grounds—representing approximately 1/3 of the Bronco's roster. 
OK. Maybe now folks living  east of the Rockies may begin to see why Boise State–a school that did not have a football program until 1968–was able to develop successful Division II and D-1AA football programs, and showed the promise of becoming a big time college football powerhouse, after moving to Division 1A football in 1996: a) location to California b) a beautiful picturesque metropolis and campus capable of enticing some of the top high school football prospects. The only thing missing was a solid D-1A program. 
The Rise of Boise State Football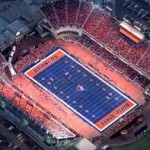 Voila! In 1998 Boise State head coach Dirk Koetter hired Dan Hawkins as an assistant. Two years latter (2000), Koetter was offerd the head coaching spot at Arizona State, at which time Hawkins was named the new Bronco head coach.  As the new Bronco chief one of Dan Hawkins' first moves was selecting an University of Oregon receiver coach by the name of Chris Petersen to be his offensive coordinator.
Hawkins and Petersen quickly took advantage of their assets and from 2001 through 2005 they moved the Bronco football program into the ranks of D-1A respectability. During that period another critical piece to the Boise State rise to prominence happened when ESPN took notice of the budding program and its exciting brand of football played on that  Bronco Stadium blue turf.  The "Sports leader" (owned by ABC) has telecast 36 Bronco games since 2003, making Boise an even more attractive possibility to potential recruits. Now the nation was taking notice and Dan Hawkins was pursued by those bigger and more established football programs.  Inevitably, in December of 2005, Hawkins took the leap and accepted the head job at Colorado University; thereby, setting up one of the most historic pages in college football history.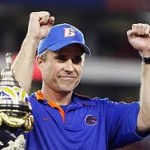 After Hawkins departure, Boise State tapped their offensive guru Chris Petersen to be their next head coach. Petersen, a former record-breaking quarterback at the University of California, Davis, was already a known commodity in the coaching circles because of the innovative high octane attack he engineered as the Bronco's offensive coordinator.  But no one expected him to come out the gate in 2006 and post a perfect 13-0 record, which included the all-time classic 43-42 Fiesta Bowl victory over Oklahoma. 
The Fiesta Bowl victory legitimized the Broncos and marked them as a top tier college football program, and Petersen became the only head coach in college football history to win 13 games in his first year. For his outstanding accomplishment Chris Petersen was awarded the prestigious Paul Bear Bryant College Coach of the Year Award. 
Chris Petersen: A Legend in His Own Time  
 The 46-year-old Chris Petersen is fast becoming a legend in his own time: His win-loss record as head coach at Boise State is 56-4, giving him a remarkable 93.33 winning percentage. Last season, Petersen coached Boise to another perfect 14-0 record and claimed his second Bear Bryant Trophy as the nation's best coach. On Tuesday night (oct 26, 2010), the Broncos 49-20 victory over Louisiana Tech pushed their current winning streak to 21 games in a row. 
Screw the computer! in my book that makes Boise State the best damn college football team in the land!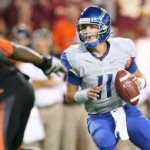 The only real threat remaining on the Broncos 2010 regular season schedule is #24 Nevada (Nov 26), and unless there is some unforeseen disaster between now and then Boise State will most likely post their second straight undefeated regular season. Unfortunately, even if the Broncos finish undefeated—they could once again face the dilemma of looking in from the outside when the berths to the BCS championship game are announced. 
I am not a mathematician nor do I know all the BCS formulas used to calculate its rankings except for the fact that significant points are added for the strength of schedule. Therefore, on that assumption the undefeated Boise team will have a slim chance of a championship berth unless a lot of bad things happen to some very good football teams.   
BCS Top Ten Standings as of week 09 (OCT 24) 
Rank, Team, Record, Conference, Remaining Threats (dates) 
Auburn

8-0, SEC–Georgia Alabama (Nov 26);  possible SEC title game (Dec4),

Oregon

7-0, PAC 12–USC (Oct 30); Arizona (Nov 26); Oregon State (Dec 4)

Boise State

7-0, WAC–Nevada (Nov 26)

TCU

8-0, MWC–Utah (Nov 6)

Michigan State

8-0, Big Ten–Iowa (Oct 30)

Missouri

7-0, Big 12–Nebraska Oct 30 Iowa State Nov 20 possible Big 12 Championship Dec 4

Alabama

7-1, SEC–LSU (Nov 6); Mississippi State (Nov 13); Auburn (Nov 26) possible SEC Championship (Dec 4)

Utah

7-0, MWC–TCU (Nov 6)

Oklahoma

–6-1, Big 12–Baylor(Nov 20); Oklahoma State (Nov27) (possible Big 12 Championship Dec 4)

Wisconsin

7-1, Big Ten–Michigan (Nov 20); Northwestern (Nov 27).
 Don't look right now but for the first time there is a strong possibility that a Division 1A football team will go undefeated two years in a row and–they will have never played in a BCS championship game. 
Nebraska is the last D-1A football program to put together back-to-back undefeated seasons ('94 and '95); however, that was before the BCS championship series began in 1998. 
Broncos Move to Mountain West in 2011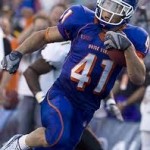 Perhaps next year when Boise State moves to the Mountain West Conference where current No. 4 TCU No. 8 Utah and No. 24 Nevada reside they will be in a position where people and machines will be more favorable towards the quality of their wins. Moreover, with the addition of Boise State, the Mountain West Conference looks to be in a position to shake up the national perception of which conference plays the best brand of college football.
No matter how you cut it from its humble start in 1968 to its swift rise to national prominence–the evolution of the Boise State Bronco football programs' is truly an amazing story. But a story that may have a tragic twist if they were to go undefeated in 2010 and not be invited to the Big Show.