Huskers Look Ready to Win Big Ten Title First Year in Conference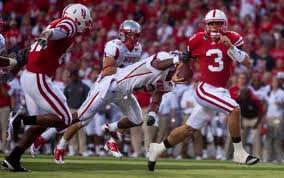 Though the Huskers' chances of playing for a national championship this season remain remote, they look very much like a football program that's capable of winning a BCS title in the near future. And that's why the current members of the Big Ten had better buckle up those chin straps tight when they go against this squad next season.
The Huskers are currently ranked No. 8 in the latest BSC poll, still with an outside shot at playing in the title game this season if they win their remaining two Big 12 games and the conference championship, plus cross their fingers and hope that most of the teams ranked ahead of them falter down the stretch. Nonetheless, regardless of how the 2010 championship hunt eventually plays out,  the Huskers are my early pick to win the first ever Big Ten Conference Championship game next season.
Many of the detractors to the possibility of Nebraska coming into the Big Ten and winning a conference title in their first year of play believe it will not happen because the Huskers will have to get used to preparing for 11 different teams and a different style of play in the Ten vs. the 12. I say hogwash!
Since 1970, the Huskers have played a current Big Ten member on 37 different occasions–winning 31 of those encounters. Admittedly, many of those victories came by way of schools like Minnesota, Illinois and Indiana, but Michigan, Wisconsin, Michigan State, Penn St., and Iowa have all been victims too. During this stretch—no current Big Ten member has a winning record against Nebraska, but Penn State, Michigan and Wisconsin are even at 3-3; 1-1 and 1-1 respectively. The Huskers have not faced Ohio State since the 1955 and 1956 seasons, where they lost both games to the Buckeyes in Columbus by the scores of 20-28 ('55) and 7-34 ('56).
Nebraska Cornhuskers Football Record vs. Big Ten Members


(Since 1970)

31 Wins  – 6 Losses
1970 Minnesota 35-10 W
1971 Minnesota 35-7 W
1972 Minnesota 49-0 W
1973 Wisconsin 20-16 W
1973 Minnesota 48-7 W
1974 Wisconsin 20-21 L
1974 Northwestern 49-7 W
1974 Minnesota 54-0 W
1975 Indiana  45-0 W
1976 Indiana 45-13 W
1977 Indiana  35-13 W
1978 Indiana  69-17 W
1979 Iowa 24-21 W
1979 Penn St. 42-17 W*
1980 Iowa  57-0 W
1980 Penn St. 21-7 W*


1981 Iowa 7-10 L


1981 Penn St. 24-30 L*
1982 Iowa 42-7 W
1982 Penn St. 24-27 L*
1983 Penn St. 44-6 W*
1983 Minnesota 84-13 W
1984 Minnesota 38-17 W
1985 Illinois 52-25 W

1985 Michigan 23-27 L


1986 Illinois 59-14 W
1989 Minnesota 48-0 W
1990 Minnesota 56-0 W
1995 Michigan St. 50-10 W
1996 Michigan St. 55-14 W
1999 Iowa 42-7 W
2000 Iowa  42-13 W
2000 Northwestern 66-17 W
2002 Penn St. 7-40 L
2003 Penn St. 18-10 W
2003 Michigan St. 17-3 W
2005 Michigan 32-28 W

*Penn State not yet member of Big Ten
As you can see from the above table–the Nebraska Cornhuskers have put a beaten on Big Ten teams.
Ohio State Buckeyes vs. Nebraska Cornhuskers
The Buckeyes and the Cornhuskers will be playing in two different divisions so these two historically rich football powerhouses will not play each other every year unless both teams meet up in the conference championship, or they happen to be scheduled as one another's out-of-division opponent like they will be next year when the Buckeyes travel to Lincoln on October 8th, 2011 and in 2012 when the Huskers travel to Columbus. According to my research, this will be the first time the Ohio State Buckeyes will play inside Memorial Stadium. So mark this game on your calendar because this Ohio State vs. Nebraska game will be the start of one of nation's most anticipated college football matchups for years to come.
The New Big Ten Conference Alignment

Division 1
Division 2

Illinois, Indiana, Ohio State, Penn State, Purdue and Wisconsin

Iowa, Michigan, Michigan State, Minnesota, Nebraska and Northwestern

Each school will play the other five schools within its division and will also face three teams from the other division, including one cross-division matchup guaranteed on an annual basis. The guaranteed cross-division matchups are Illinois-Northwestern, Indiana-Michigan State, Ohio State-Michigan,

Penn State-Nebraska

, Purdue-Iowa and Wisconsin-Minnesota.

Each year the respective divisional winners will meet in the Big Ten Championship Game to decide the conference champion. The first Big Ten Championship Game will be played  December 3, 2011, at Lucas Oil Stadium in Indianapolis.
Wisconsin May Be Huskers Most Dangerous Foe
The Ohio State vs. Nebraska game may be the nation's most intriguing game on the Big Ten docket in 2011, but before the Huskers face the Buckeyes, they will face the Badgers in their Big Ten opener on Oct 1. And out of all its Big Ten opponents Wisconsin may pose the most danger to the Huskers because of their pounding style of play, marked by traditionally great offensive lines and big, powerful, explosive backs. The Pelini brothers, Bo and Carl, have figured out how to defend against pass oriented teams–namely the spread offenses utilized by so many Big 12 teams–but now they will have to regroup and adjust to stopping Big Ten run oriented teams like Wisconsin. Fortunately for the Pelini's, they have  more than enough talented defenders to meet the task. More importantly, the Pelini brothers have proven to be very adept at adjusting to whatever offensive scheme that's thrown in front of them.
2011 Nebraska Cornhusker Football Schedule

Sat, Sep 10

Fresno State

Memorial Stadium
TBA

Sat, Sep 17

Washington

Memorial Stadium
TBA

Sat, Sep 24

Wyoming

at Laramie, Wyo.
TBA

Sat, Oct 01

Wisconsin

at Madison, Wis.
TBA

Sat, Oct 08

Ohio State

Memorial Stadium
TBA

Sat, Oct 22

Minnesota

at Minneapolis, Minn.
TBA

Sat, Oct 29

Michigan State

Memorial Stadium
TBA

Sat, Nov 05

Northwestern

Memorial Stadium
TBA

Sat, Nov 12

Penn State

at University Park, Pa.
TBA

Sat, Nov 19

Michigan

at Ann Arbor, Mich.
TBA

Sat, Nov 26

Iowa

Memorial Stadium
TBA
No doubt a tough schedule. The Huskers should enter the Wisconsin game undefeated and if they can beat the Badgers in Madison and trump the Buckeyes at home the following weekend they most likely will be ranked No. 1 or  No. 2 in the polls. Minnesota will not be a problem and   Michigan State will not beat the Huskers in Lincoln, but all four of the remaining teams on the Huskers' schedule pose a risk–Michigan at Ann Arbor is the most troubling. A healthy Husker team could finish undefeated, but most likely will lose at least one game. And that's all they can afford to lose if they want to win the conference title and play in the BCS champion game.
Talent Level at Nebraska High vs. Big Ten
I have seen every Big Ten team play this year and the only team that can match the depth of talent at Nebraska is Ohio State—equally as good. But the Buckeyes may be facing the task of having to break in a new QB if Terrell Pryor opts to enter the draft this spring–a prospect that makes them even more vulnerable when they travel to Lincoln. I still believe that even if Pryor decides to return for his senior year–like he has recently indicated–the Huskers will beat the Buckeyes in Lincoln.
Yet the overriding reason why I believe Bo Pelini and company will prevail in the Big Ten next year is because, in addition to the deep pool of athletic talent the Huskers possess and the high level of coaching aptitude on staff, the Huskers have demonstrated they have the moxie to weather any storm of adversity mounted against them by the way they have performed during their last season in the Big 12. This young but maturing Husker squad is physically stoked and mentally primed for a national championship appearance. Therefore, regardless of how they finish this season—the Huskers will be the team to beat in the Big Ten in 2011. Of course, we could be treated to an early  preview between the Huskers and another Big Ten opponent in one of this season's bowl games.
Potential Problems on the Horizon
The only things that would shake my assertion of a Huskers Big Ten championship in 2011 are 1.) injuries to key players and/or 2.) coaching changes—especially if Carl Pelini were to leave. Carl Pelini has done an extraordinary job at Nebraska in helping his brother, Bo, fashion the Huskers defense and through his efforts in developing outstanding defensive linemen. Carl Pelini's success at Nebraska has not gone unnoticed; he has become a very hot commodity among the coaching and athletic directors circles. It will be interesting to see if Carl Pelini can be coaxed to leave the Huskers and his brother for a more lucrative defensive coordinator spot or even a head coaching opportunity. The only thing I'm certain of is that Carl will not be at Nebraska very much longer.
The Big Ten members are going to need all the outside help they can get to prevent the upstart Huskers from coming into the conference and winning it all in their first year. Be afraid. It could really happen.