2011-12-26 - Mailing Service
Introducing Send It 4U Mailing Service
Hit Highlights.com
Sends
Your Game Film & Highlight DVDs to Colleges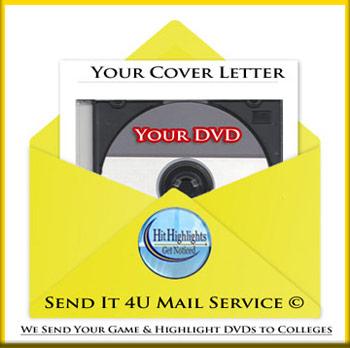 Beat the hassle of trying to figure out how, when and where to send your game film and highlight videos to college coaches. Relax and let Hit Highlights.com do all the legwork for you with our new low cost Send It 4U Mail Service.
No matter what sport the Send It 4U Mail Service can help athletes, parent/guardians and coaches free up valuable time and eliminate some of the confusion, stress, and worry during the recruiting process, by stremiling the procedure of sending game films and highlight videos to colleges. That's because we make copies of your DVDs and/or digital files and keep them on hand so that you can email or call us toll-free, at anytime, to tell us where you want the next batch to be sent.
All you have to do is mail or electronically send your game film and/or highlight DVD to us and we will mail the package to the appropriate coach located at the college(s) of your choice.
Cover Letter Included
A professional cover letter (optional) will accompany each mailing. The cover letter will contain but is not limited to the following information: athlete's position(s) season and/or career stats, physical and athletic measures, awards/honors, GPA and applicable college entry test scores. In addition, informative disc labels (athlete name, school, disc title etc...) will be produced and affixed to each DVD disc to be mailed.
"As we continue to grow Hit Highlights.com looks forward to taking a more proactive approach to promoting our client athletes and providing them and their parent/guardians and coaches with more technologies, information and resources to successfully navigate the ever changing and highly competitive environment of sports recruiting."
How the Send It 4U Mail Service Works
1. Purchase the Send It 4U Mail Service Member Registration and the appropriate number of Send It 4U Mailing Units corresponding to the number of colleges that you want to receive your highlight video and/or game film DVD.
2. Send us your highlight video and/or game video via mail or by utilizing our FTP account.
3. Once we receive your footage (a) we make a copy to keep on file for future use; (b) print and add the optional disc label(s) to your game film and/or highlight DVD and (c) we mail your DVD(s) along with the optional cover letter to the college(s) you have chosen. All original hardcopy footage that you sent to us is mailed back to you
Send It 4U Pricing
Send It 4U Member Registration Fee: $10.00 (a onetime introductory limited offer). This fee is applied to the accounts of each user of the service and entitles the Account Holder to purchase an unlimited number of Send It 4U Mailing Units (see below). Note: The Account Holder's Send It 4U Mailing Units must be applied to one athlete and/or immediate family member(s).
Send It 4U Mail Unit: $5.95 per mailing within the continental US (maximum of 2 DVDs per mailing envelope).
The Send It 4U Mail Unit applies to US First Class postal rate service. Certified Mail, US Priority Mail, US Overnight Mail is available for an additional applicable charge.
Powered by PayPal