2011-02-26 - Get free website with your Highlight Video Package.
Showcase your football highlight video in style to college coaches, recruiters and fans with a fully functional SEO optimized website design that promotes your video and achievements:
Promote Your Game With a Web Site

MyWebThang©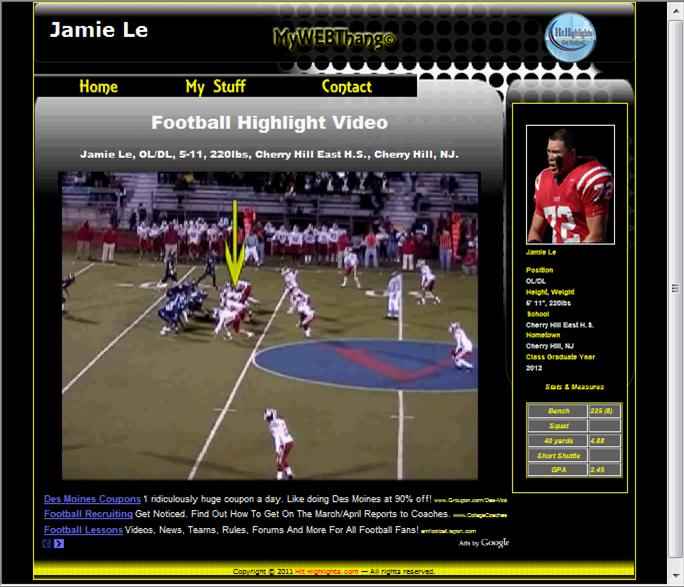 A Great Way to Promote Your Athletic Excellence
Hit Highlights.com introduces MyWebThang ©, a fully functional website hosted on hithighlights.com.
The MyWebThang website is free to any Hit highlights.com client that purchases an Express Package, Season Package or any digital media service or combination of services totaling at least $150.00.
The MyWebThang website template will come preinstalled and--ready to go--with three pages featuring your Highlight video and stats on the Home Page; a Flash Slideshow Photo Gallery and any commentary on the "My Stuff" second page; a Contact Page where you can provide any additional information. Also, you will receive an email account.
Hit Highlights.com will load all the materials listed above and will provide further assistance—free of charge—to help you add other pages and or items to your website (does not include free assistance for ecommerce materials.)
Use your MyWebThang website to promote yourself, team, friends or family or even to sell products. It's your site and you will have administrative access to do as you please (certain restrictions apply).
No monthly hosting fee and free assistance in helping you to deploy and to maintain your website.
What are you waiting for?
Limited Time Offer: MyWebThang for $49.00.
If you already have a highlight video and some pictures, for only $49.00 you can purchase your own MyWebThang and receive the same features and benefits as listed above. Just send us your video and pictures and we will load your site.
MyWebThang Website Limitations, Requirements Restrictions
Specific streaming media and video storage limits apply.
No email spamming allowed.
Certain advertisement requirements and restrictions apply.
Sites promoting and/or distributing pornography or highly offensive material or engaging in illegal activities are strictly prohibited.

Click the Highlight Video Home Link (located at the top and at bottom of this page) to view our Promo Video, Screenshot Slideshow and to learn more about what Hit Highlights.com can do to help you – Get Noticed! Click on the the Hit Highlights page header image (right) to return to Hit Highlights splash page.